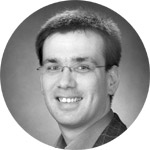 Graduated in Biotechnology and Business Administration at the University of Agriculture, Vienna, Austria

Post-graduate degree in
Intellecutal Property at Swiss
Federal Institute of Technology,
Zurich, Switzerland

Trainee in a Lichtestein patent law firm 1999-2002

Joined HUBER & SCHUESSLER - Patent Attorneys in November 2002

European Patent Attorney


Georg Schmitz

Tel.: +49 89 437788 0
Fax: +49 89 437788 99




Georg Schmitz was born in Vienna, Austria, and studied Biotechnology and Business Management at the University of Agriculture and the University of Technology in Vienna. He specialised in Applied Microbiology and Cell Culture Technology and graduated with a diploma thesis on the scale-up of a baculovirus expression system for the production of anti-HIV antibodies.

Georg continued his academic education with a post-graduate course in Intellectual Property at the Swiss Federal Institute of Technology in Zurich. His diploma thesis discussed the interpretation of Article 53(b) of the European Patent Convention (EPC) in relation to the term "plant varieties" with regard to the subsequent practice of the EPC member states.

Starting his professional career as a trainee with a private patent law firm in Vaduz, Liechtenstein in 1999, Georg joined HUBER & SCHUESSLER in 2002, qualifying as a European Patent Attorney in 2003.

Georg has dealt with patent applications in the fields of biology, pharmaceuticals and materials technology and is familiar with prosecution of trade marks.

He speaks English, German, French and Spanish.