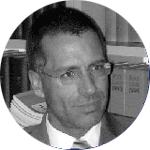 Studied law at Ludwig-Maximilian-University, Munich

Passed bar exam in 1989

Since 1989 German Attorney-at-Law in Munich

Joined HUBER & SCHUESSLER in January 2005




Stephan Biagosch

Tel.: +49 89 437788 0
Fax: +49 89 437788 99




Stephan Biagosch studied law at the Ludwig-Maximilians-Universität München from 1981 to 1986. He passed his bar exam in 1989. Since 1989, Stephan is a member of the Munich Bar Association and working as a German Attorney-at-Law in Munich.

He is specialized in the field of intellectual property and unfair competition law. He has wide experience in the filing and enforcement of trademark applications, in patent and trademark infringement cases and in the exploitation of intellectual property rights by selling or licensing. Stephan is a member of INTA, AIPPI and GRUR (German Association for Intellectual Property and Copyright Law).

Stephan was working in close cooperation with HUBER & SCHUESSLER since their foundation. He joined HUBER & SCHUESSLER in 2005.